Dorton Group South West works with local residents to preserve Palace Hotel flagpole
The Dorton South West team working on the demolition of Torquay's Palace Hotel have helped local residents raise the flagpole in its new home in time for a celebration of the Queen's birthday.
Dorton South West has recently started work at the site of the former Palace Hotel in Torquay, which is making way for a multi-million-pound state of the art hotel complex. Naturally, local residents are fond of the old hotel and we were delighted to help when local resident Colin Hedworth, approached us to save the hotel's flagpole and move it to Georgian Court, located opposite the hotel.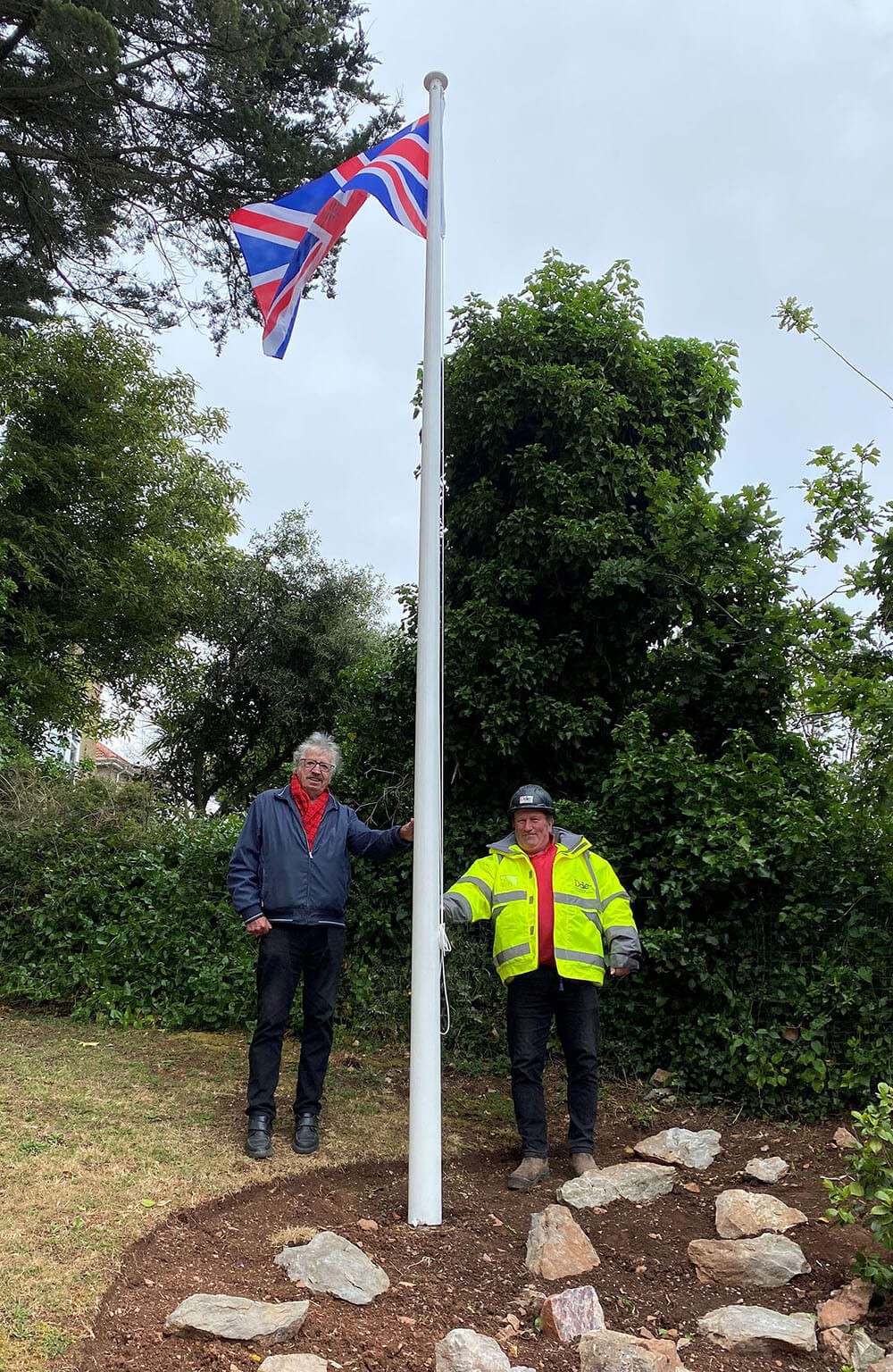 Our site manager Steve Clifford ensured that the flagpole was carefully lowered; Colin arranged for a local woodturner friend to create a new oak finial and the flagpole was given a coat of paint, before being repositioned in Georgian Court in time for a celebration of the Queen's birthday.
Director of Dorton Group Duke Harvey, said:
"At Dorton Group, we're dedicated to working with the local community and we're deeply respectful of the historical nature of many of the buildings we work on. We were delighted when Colin approached us to help preserve the flagpole as a souvenir for the local residents; it's great to see the new flag flying proudly, particularly at such a challenging time for the country."
We are passionately committed to working sustainably within the community and reducing our impact on the environment, and we aim to recycle 100% of our waste. Demolition waste from this project will go to our South West recycling facility in Plymouth, where we have recently expanded to be able to accommodate general waste. We retain as many historical artefacts and interesting features of a building as possible, taking them to our reclamation yard in Burgess Hill, West Sussex, for new families to enjoy in years to come.
There is a very interesting history to the Palace Hotel. Originally built in 1841 as a seaside home by Henry Philpott, the controversial Lord Bishop of Exeter, it was expanded in the 1920s when it became a hotel. The hotel was requisitioned as an RAF hospital during World War Two and sadly sustained significant damage when it was bombed in 1942 and 1943. In its heyday, the hotel saw visits from many famous faces, including tennis player Sue Barker, and former Prime Minister Margaret Thatcher.