LOCATION
The Palace Hotel
Babbacombe Road
Torquay, Devon TQ1 3TG
CONTRACT START DATE
February 2020
CONTRACT COMPLETION DATE
January 2021
---
Demolition and asbestos removal works at the former four-star The Palace Hotel and Ancillary Buildings, Babbacombe Road, Torquay, Devon TQ1 3TG
The site is approximately 10 hectares and located within Babbacombe a district of Torquay, Devon. The Palace, one of Torquay's most majestic and historic hotel's, comprised of a grand 4-storey plus basement upper-middle-range Victorian hotel with 141 guest rooms, 9 meeting rooms, a large conference space that could accommodate up to 350 people, banqueting space for up to 800 people, cinema, gilded ballroom, snooker rooms, covered and open swimming pools plus saunas and fitness room, and a 9-hole golf course. Across the road from the hotel was a multiple sports centre which comprised of an indoor and outdoor tennis and squash courts, and a croquet lawn.
Plan and Google Earth Image showing areas within the Site Boundary in red outline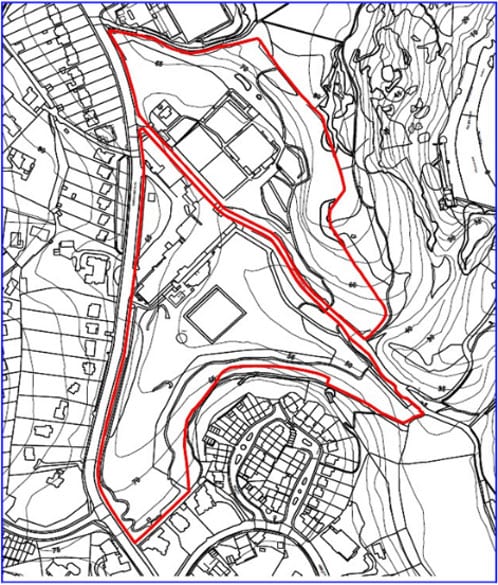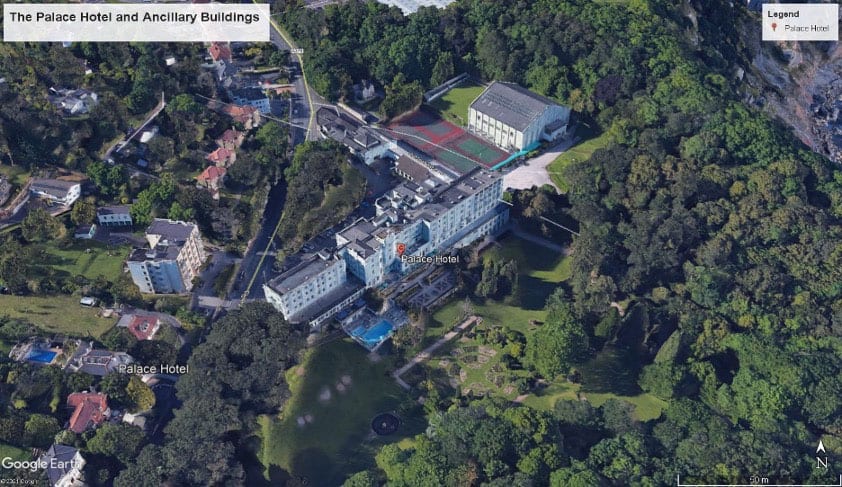 The grand building and its 19 acre grounds resembled the haunted Overlook Hotel from Stephen King's The Shining. Made famous by the 1980 Stanley Kubrick film starring Jack Nicholson, its lonely hallways were a source of skin-crawling terror.
It started life as a seaside home of a bishop. It was built in 1841 by Henry Philpotts, Lord Bishop of Exeter, in 25 acres of grounds. At the Church of England's General Synod in 2006 it was alleged that Henry was paid a compensation for the freeing of 665 slaves on a plantation in Barbados which he owned.
The Palace when it was the private mansion Bishopstowe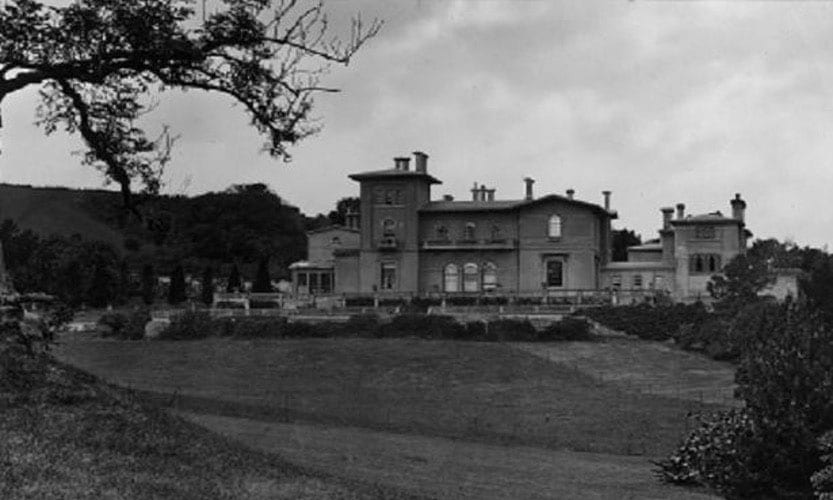 Henry Philpotts died in 1869 and the house passed through various owners until its conversion and expansion into a large hotel in 1921.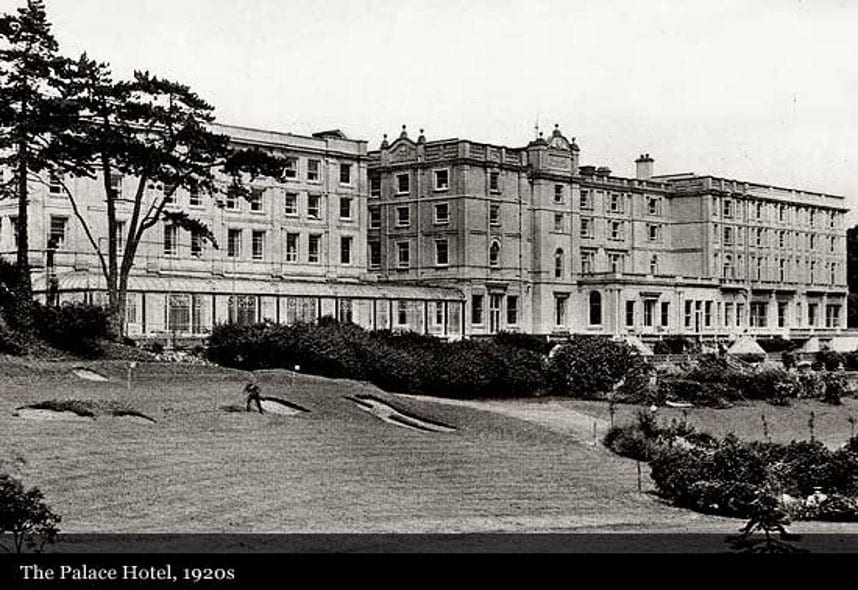 The hotel was requisitioned as a hospital in 1939 for RAF Officers and painted with a Red Cross. Records and mapping indicates HE bombs were dropped on and around the site. The following have been mapped or are on the mapping:
20/08/1940: 8 HE Bombs (Screaming) Babbacombe Road area near Quarry, on or in very close proximity to the northern end of the site.
25/10/1942: 2 Bombs on Palace Hotel. Multiple Casualties.
30/12/1942: Attacked again central portion of hotel damaged.
08/01/1943: Bombs dropped on Torquay. Palace Hotel named no exact location.
The Palace Hotel after the December raid in 1942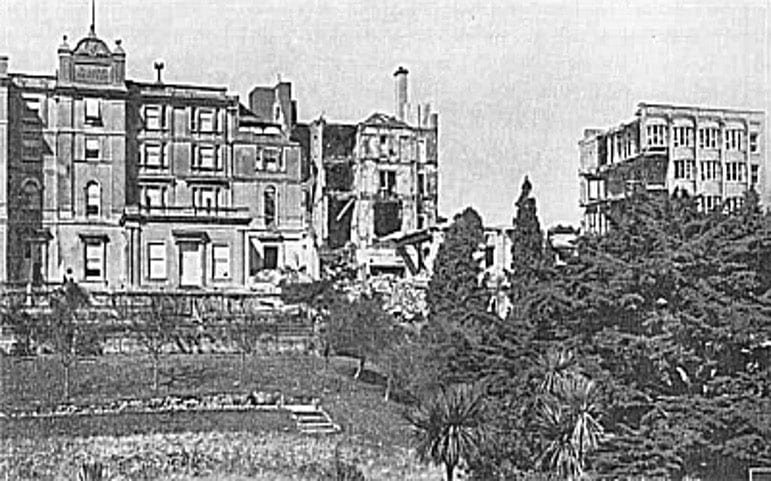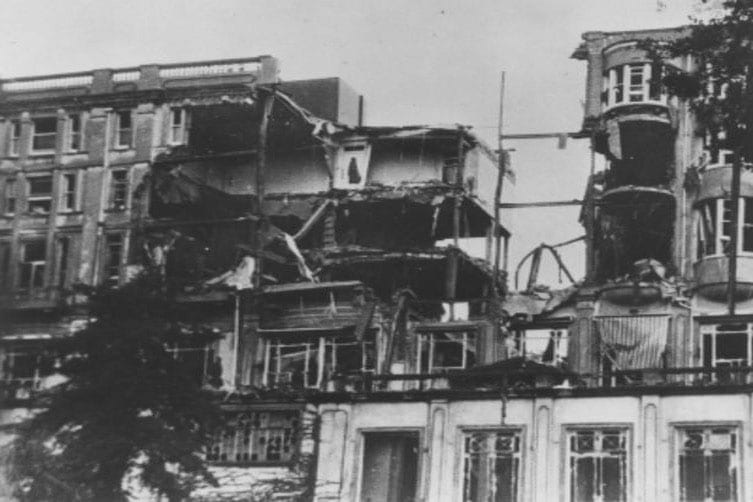 The Palace was reborn as one of the south west's leading hotels after the war. Princess Anne, the late Tory Prime Minister Margaret Thatcher, and TV's Sue Barker whose professional tennis career blossomed on its courts, have stayed at or visited the hotel which hosted many prestigious events and conferences as well as being a holiday venue. The hotel enjoyed a long golden age.
Meanwhile it's out with the old and in with the new to make way for a hyper modern hotel by the Singapore-based Fragrance Group.
Dorton Group was awarded the demolition contract through competitive tendering.
Below is a summary of the scope of demolition works:
Schedule of conditions of surrounding highways, bridges and street furniture.
Carry out a structural assessment of condition of retaining walls to site boundaries.
Detecting, identifying and terminating services and utilities.
Supply and installation of tree protection fencing. Broadleaved woodland covered much of the northern and eastern areas of the site.
Tree surgery services including crown reduction and the removal of 65 trees.
Supply and installation of protective fencing to an area within the amenity grassland on site with notable plant species – Autumn lady's-tresses, a Devon notable plant species.
Environmental clean of bird guano from exposed rooms and spaces.
Removal of all loose furniture, fittings and equipment.
The removal of licensed and non-licensed asbestos.
The site was registered under a Bat Mitigation Class License. Roof coverings had to be stripped by hand under the supervision of a registered Ecologist on the license.
Soft strip and demolition of all buildings including breaking out substructures – basement, swimming pool, lift and stairwell pits, and all associated foundations.
Decommissioning and removal of underground fuel tanks and contents.
Breaking out of an open air swimming pool completely.
Breaking out hardstanding and furniture to outdoor multiple sports courts.
Crushing suitable site won hardcore material on site and re-using to backfill excavations, voids and pits, to make up levels to the contours of the existing surrounding ground.
Removal of all remaining demolition arisings from site.
Dorton Group's extensive demolition knowledge base allowed an innovative approach enabling the successful completion of this challenging and complex project. Below are just a few of the comments received from neighbours who noticed our professionalism and hard work:
Please find link hereunder to the news article, commendations and video that is on our website regarding the demolition works at the Palace Hotel, Torquay.