LOCATION
Transit Shed One, Brighton Terminal,
The Canal (South Side),
Shoreham Harbour, Portslade
CONTRACT START DATE
March 2020
CONTRACT COMPLETION DATE
April 2020
---
Demolition Works to Transit Shed One, Brighton Terminal, The Canal (South Side), Shoreham Harbour off Basin Road South, Portslade on behalf of Shoreham Port Authority.
Shoreham Harbour is located on the south coast of England, five miles west of Brighton City Centre and five miles east of Worthing. The Harbour stretches for three miles and is bounded to the north by the A259 south coast road and the adjacent coastal communities (from west to east) of Shoreham-by-Sea, Southwick, Fishersgate, South Portslade and West Hove. The Harbour area embraces important environmental characteristics including the River Adur (linking the Harbour with the South Downs), the coastline, a Site of Nature Conservation Importance at Shoreham Fort and also borders a Site of Special Scientific Interest in the Adur Estuary.
Brighton Terminal is the largest terminal in the Port in terms of land area, covered storage area and cargo throughput, and is used primarily for the import of softwood timber. The terminal has an expanse of block-paved hard standing for open storage and seven large sheds for cargo requiring covered storage. Transit Shed One, Shoreham Port's largest storage shed, was earmarked to be demolished to create room for an even larger shed as part of the redevelopment. The shed demolition is part of the Port's wider plan to regenerate the harbour area and continue to grow commercial activity, making way for ArcelorMittal to reconfigure their existing steel premises at the Port, thereby upgrading the Port estate.
Dorton Group was awarded the demolition contract through competitive tendering.
Brief scope of works:
Undertake a schedule of conditions.
Undertake site survey to determine location of services.
Segregate site and maintain thoroughfares for users of heavy-duty vehicles for the Port Authority.
Supply and erect all necessary demolition scaffolding to structures in close proximity and along site boundaries and thoroughfares protecting the general public and neighbouring business units.
Removal of all Asbestos Contaminated Materials from the shed.
Soft strip and demolition of the shed. Ground bearing floor slabs and foundations to be retained. Existing surrounding hardstanding and ground bearing floor slab to be protected.
Removal of all demolition arisings from site.
To disconnect and seal any sewer or drain serving the shed.
Breakout/ cut and remove any steel columns and associated concrete pads to a minimum 150mm below existing ground floor slab level.
Transit Shed One was steel framed and made up of joining gable roofs covered with asbestos cement sheeting and clad with asbestos cement sheeting to all four external walls. The shed is immediately adjacent to an occupied Transit Shed Ten (ArcelorMittal S.A. offices and warehouse). 'Live' electrical solar systems were to be protected at the nearest corner of Shed Ten next to Shed One for the duration of the demolition works.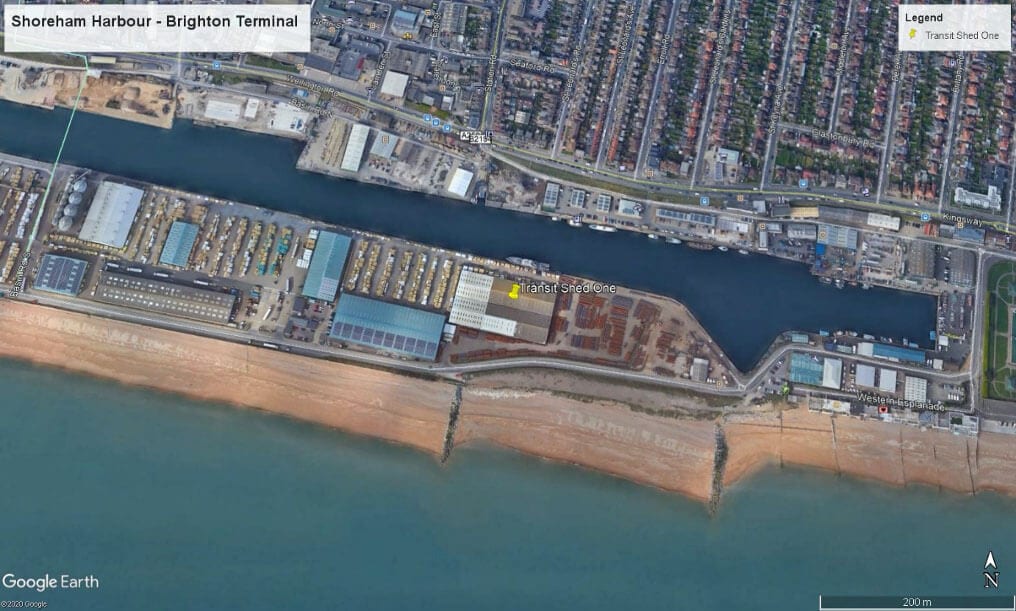 Demolition was carried out in a 'live' port environment.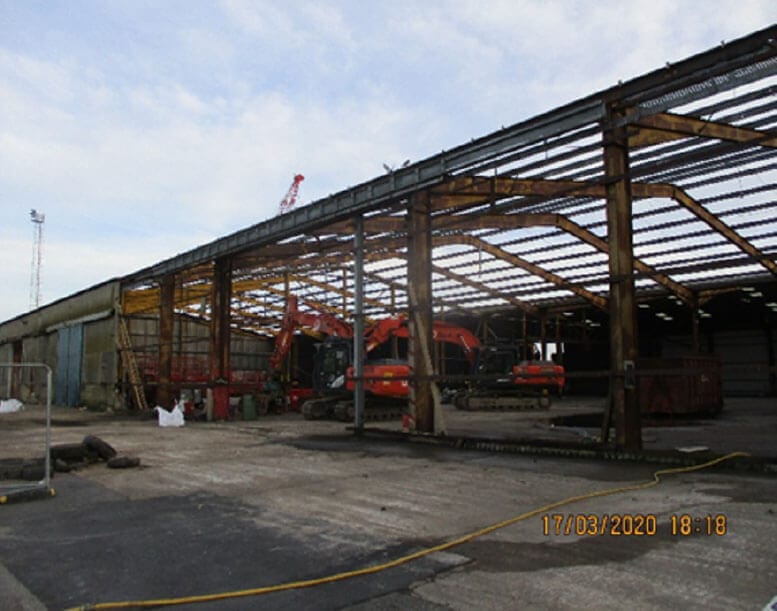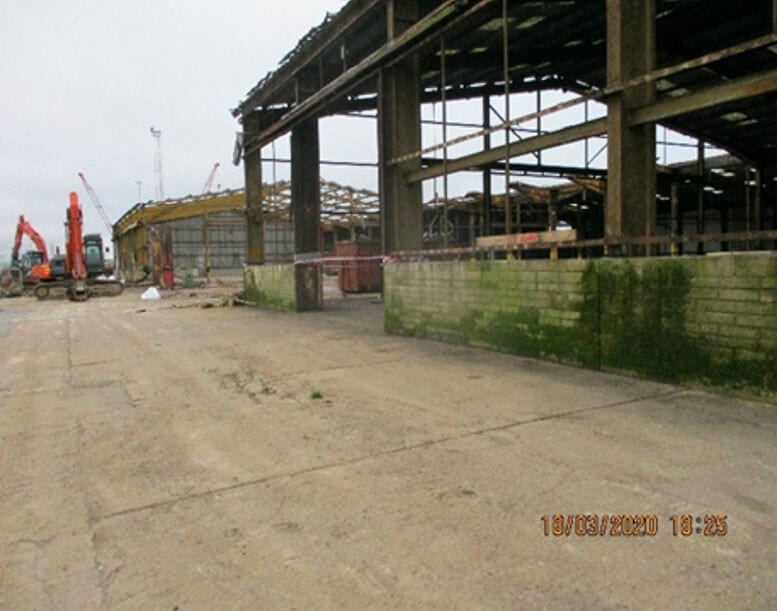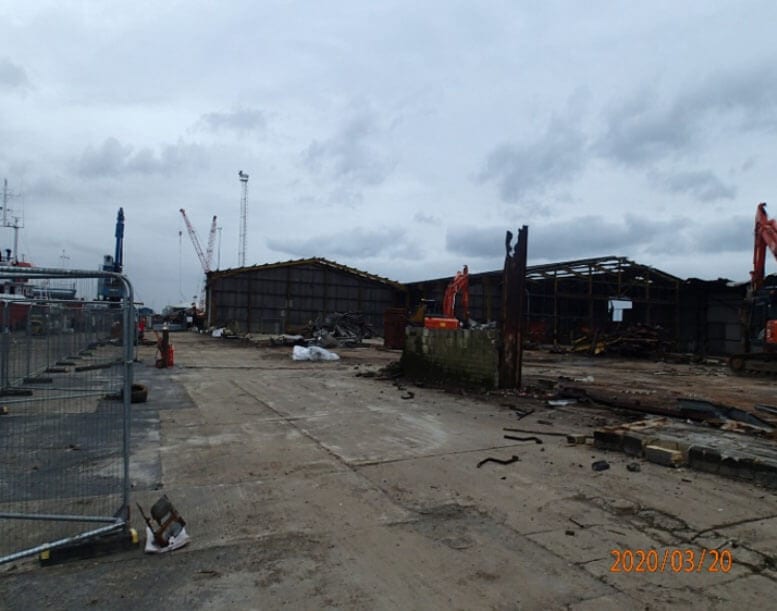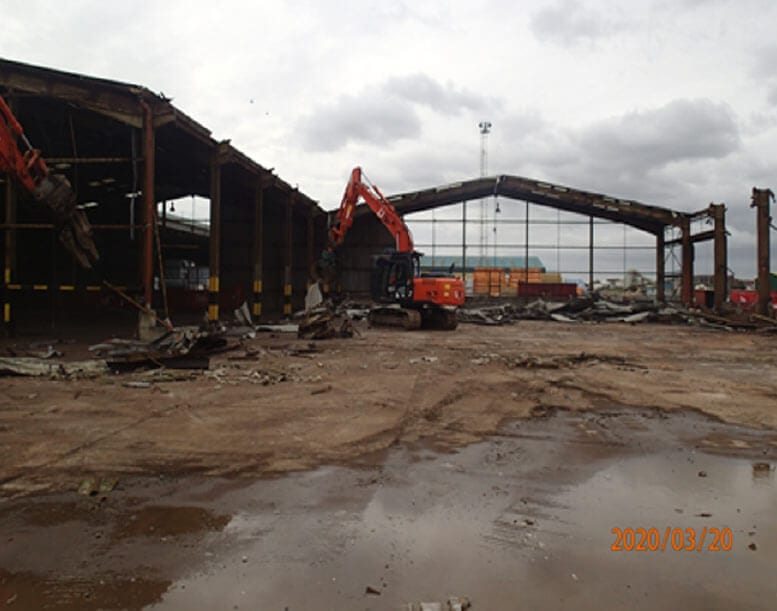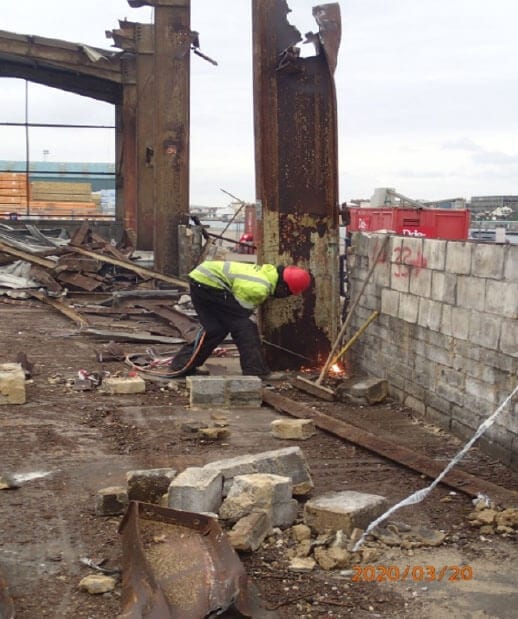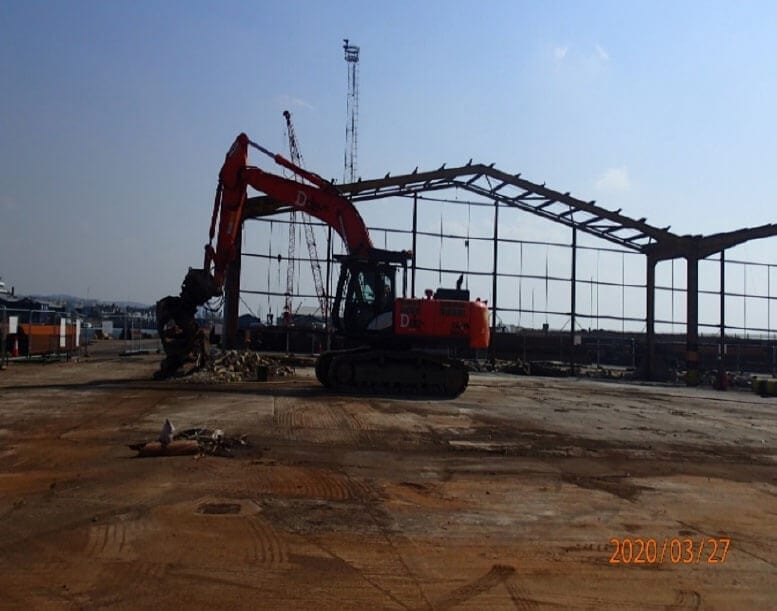 The demolition works faced several complexities due to the following main factors:
1. The crisis surrounding the Coronavirus (2019-nCoV) outbreak (the Outbreak) – UK's Coronavirus (Covid-19) lockdown was introduced on 23rd March 2020. With closures for many businesses and suppliers, and increasing groups being asked to self-isolate, the construction industry was faced with unprecedented issues, with the escalating situation changing daily. Performance became increasingly difficult with labour and material shortages and increasing costs. In these exceptional circumstances, Dorton Group remained operational. Site operating procedures were updated regularly based on Public Health England guidance and UK Government advice on Coronavirus. Protection of our workforce, the general public and minimising the risk of spread of infection, takes priority in all instances. Notices were displayed in several locations on the site, to inform the general public and Port Authorities of the site procedures. To support the health and wellbeing of NHS staff and key workers for their services during these incredibly challenging and difficult times, Dorton Group offered FFP3 disposable masks, overalls and gloves to hospitals and care homes for the elderly.
2. In relation to the termination and diversion of the incoming electrical supply to Shed One, the Client was advised by UK Power Networks (UKPN) that to this end (UK's Coronavirus lockdown) it will be postponing all existing and new planned disconnection activity indefinitely with immediate effect. Dorton Group's in-house electrician was engaged to make safe and disconnect all services coming away from the electrical service heads. The 'live' heads (distribution/mains boxes) were protected with scaffold crash decking.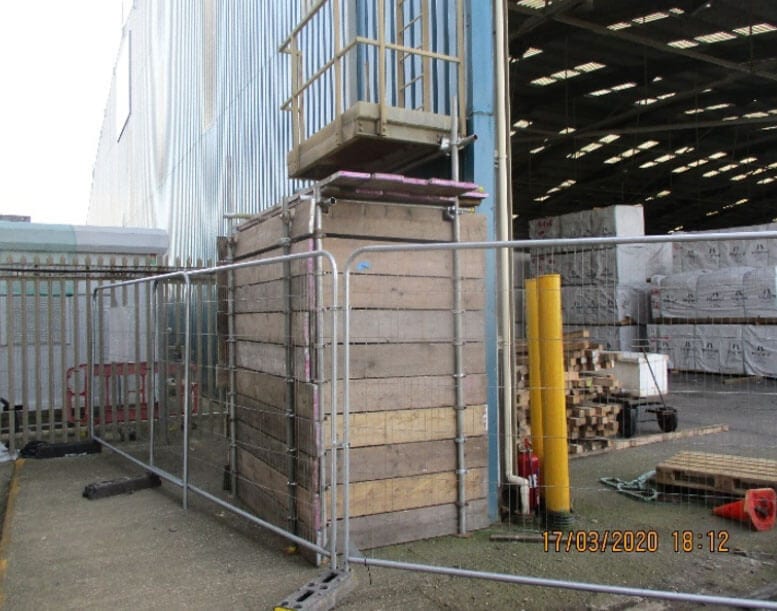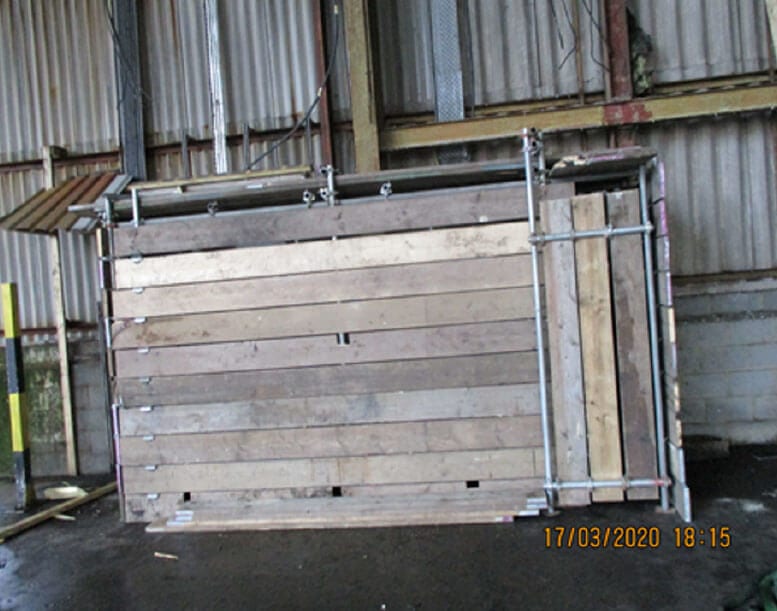 3. During removal of the roof coverings, site personnel located a small area of suspect asbestos panel on high level steelwork at the north western corner of Shed One. Works were immediately stopped pending further investigation. Analysis showed the sample to be an asbestos insulating board (AIB) panel. Notification was issued to HSE Form ASB5 14 days prior to commencement of the licensed removal works. Removal works were carried out under fully controlled conditions and strictly in accordance with the Health & Safety at Work Act 1974, HSE Approved Codes of Practice (ACOP) L143 and the Control of Asbestos Regulations 2012.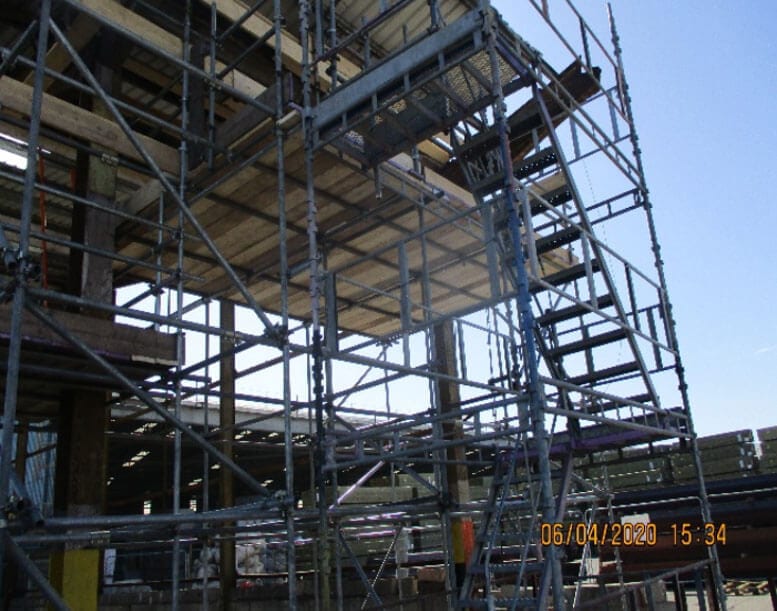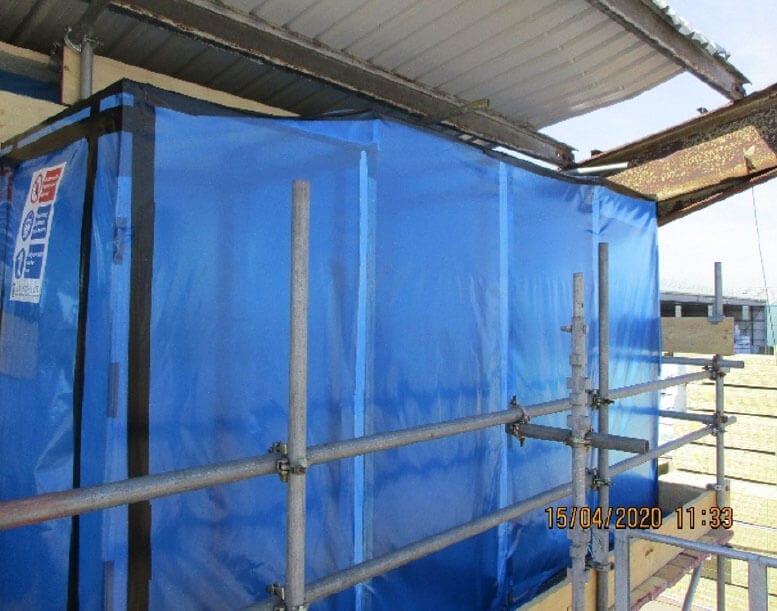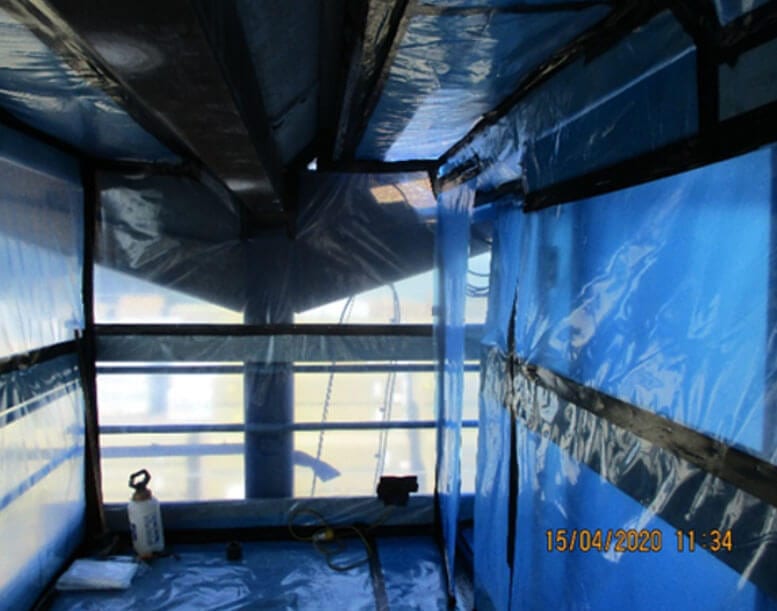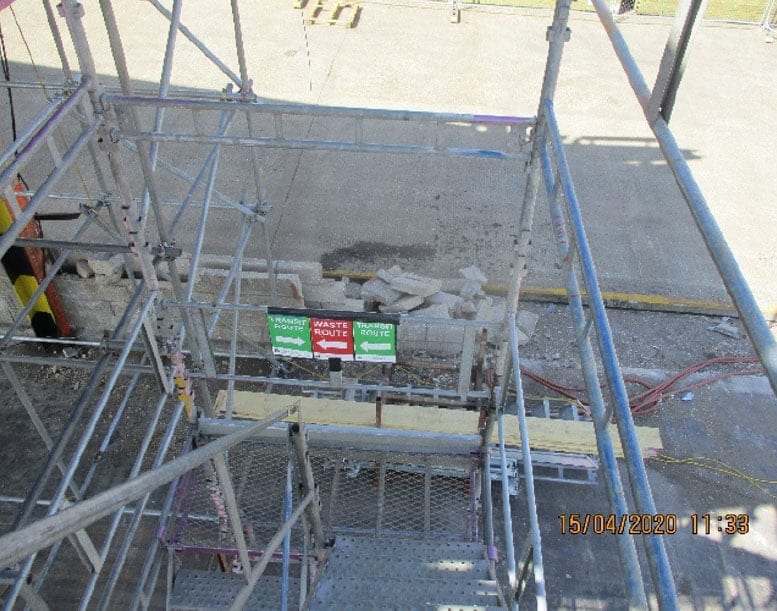 4. The busy harbour location meant that Dorton had to employ very strict measures in reducing and suppressing noise, dust and vibration.
Site works were completed without accident or incident and the site handed over to the client one week early.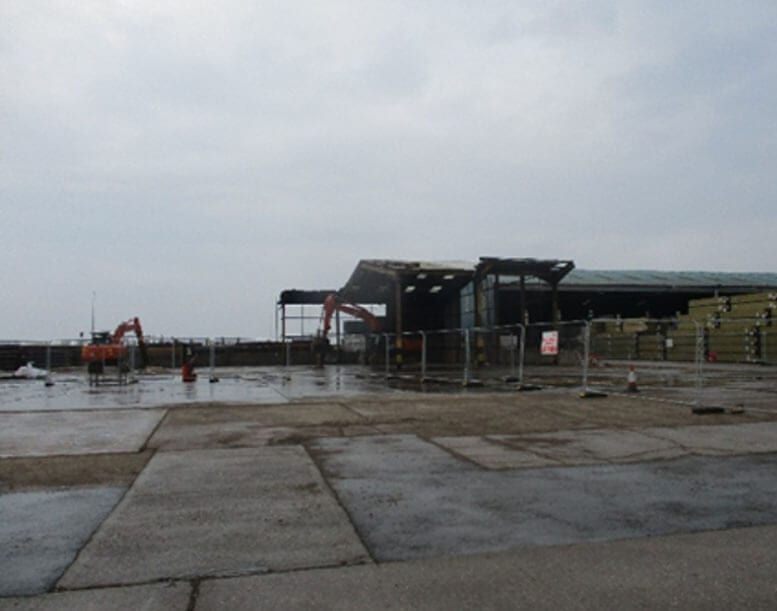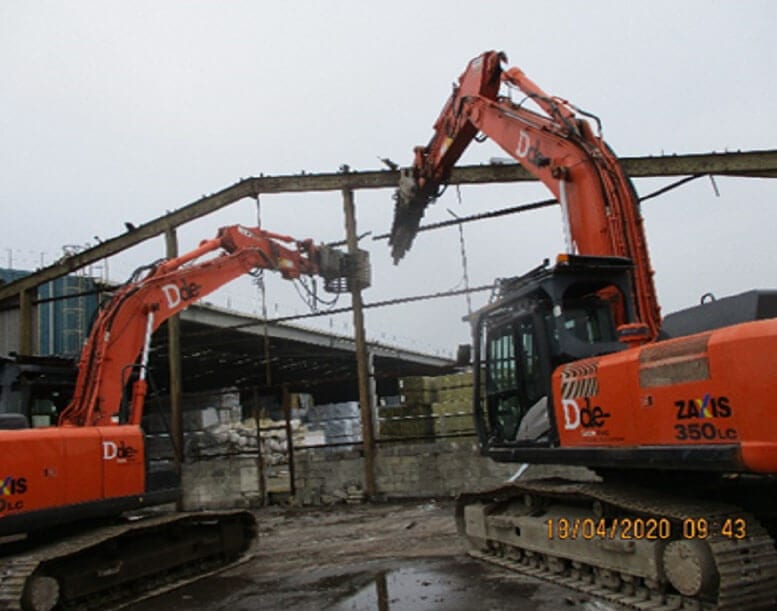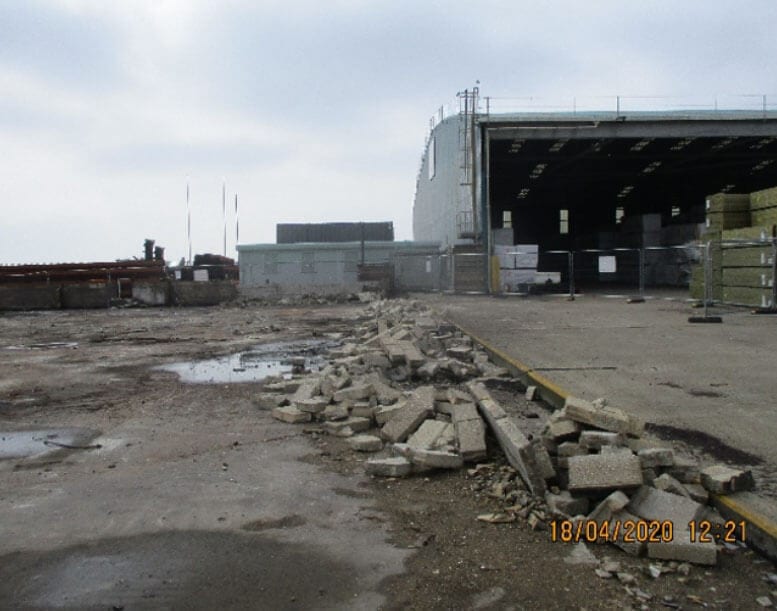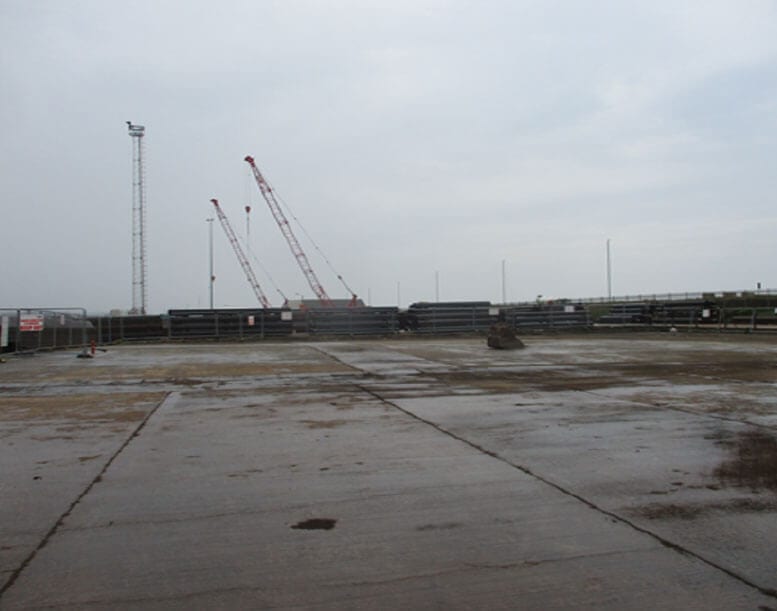 Regular communication with Shoreham Port Authority and neighbouring businesses, prompt action when concerns were raised, Dorton's extensive demolition knowledge base, and the innovative and proactive approach, meant we were perfectly poised to provide an excellent service for our Client which was both competitive and efficient, enabling the successful and early completion of this challenging and complex project.
The total tonnage of demolition waste was:
Hardcore recycled: 16.80 tonnes
Asbestos cement sheeting sent to licensed asbestos disposal site: 123.33 tonnes
Asbestos insulating board panels sent to licensed asbestos disposal site: 0.20 tonnes
Rubbish sent to licensed waste transfer station: 4.60 tonnes
Metal scrap recycled: 206.89 tonnes.